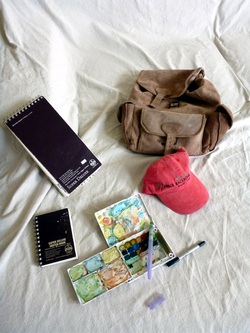 Stephen's essential sketching travel pack kit
Traveling is about packing light and simple - and my watercolour travel pack is just that. My essential kit includes:
-Pack: mine is an old soft leather knapsack that I've had for
years. It's not very waterproof, but I live in Arizona where it rarely rains, so if it is raining, I'm not going to be out sketching. I'm going to be celebrating the moisture in the desert!

-Sketch book: I compromise on watercolour paper for the sake of convenience and speed. I use Bee Paper Company's "Super Deluxe Sketch Books" which has a reasonably heavy 93# double sided paper that takes well to pen sketching and watercolour. I usually bring two and sometimes three sizes: 4 x 6 for really really quick sketches; 6 x 9 for really quick sketches; and 6 x 12 for quick sketches. Note that speed is the key for field sketches. If I have more than 15 minutes, my favorite size is the 6 x 12 which lends itself to wide panoramas that are everywhere in the open
Southwest.


-Pen: my latest favorite quick sketch pen is the dual headed IDenti pen by Sakura. It has a large tip on one end and a fine tip on the other – the ink is waterproof which allows me to throw the wet paint on right away. I do not use a pencil - there's usually not enough time to get fussy and I like to get the ink down fast and just celebrate my
mistakes.

-Paint: The KOI Watercolor Paint Pocket Field Sketch 18-Color Set is a durable kit that opens up with lots of trays and has 18 great colors. I find the 18 color set is just enough variety for what I do. The kit is also perfect for using the water brushes since it has two cleaning sponges on either side of the colors. It's a great kit that folds up small and opens large. With its durable thumb ring on the base, I can also hang onto the kit in just about any
wind.

-Brush: I only use one brush so I find the flat-tip water brush by Kuretake to have the most versatility. I get a nice wide ½ inch brush for laying down lots of color and then use the edge to get finer detail. The brush also cleans up nicely with the KOI paint kit sponges. The large water reservoir holds enough water for several
paintings.

-Camera: I love the Panasonic DMC-TS4 waterproof camera. It takes great images, is very durable and has a reasonable zoom. I always try to take a picture first in case I don't have time to do the field sketch or I get interrupted. This camera also has a great panorama option that is great fun for the wide vistas or vertical slot canyons.

-Hat: a colorful cap to block the sun is essential here in Arizona. The more color in your hat, the more your audience will think you are a real artist.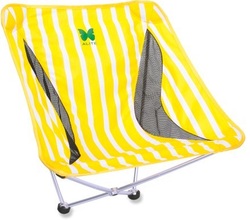 -Fold-up stool: While I usually chose my subjects by the availability of a seat, there are times where the subject and the available seat just do not get aligned; so I like to have my own stool just in case. I love the Monarch Butterfly fold-up stool by Alite. It looks cool, will attract curious on-lookers, and it fits easily into my knapsack.

Other than that, I always like to travel with my wife, Lindy, who shares my joy of doing quick travel sketches in a unique setting - and is usually doing her own fabulous watercolours!