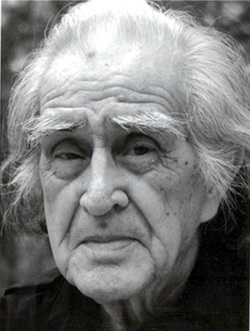 A year ago I met a great local Tucson artist, Apolonio "Al" Romo, and then he died. I met Al during a University of Arizona neighborhood spring clean-up project, and Al's house was one of the clean-up projects. At the time, I only knew that the home belonged to an older gentleman who needed help. While we were working, Al came out of his house to see how we were doing and to chat with some of the students. Later he came out to his front porch holding a remarkable watercolor of a scene from the Altar Valley with Baboquivari Peak in the background. I was immediately captivated not only with the watercolor technique but also the subject matter. Lindy and our dogs used to enjoy camping in our VW camper during weekend visits to the Buenos Aires National Wildlife Refuge. We always enjoyed the peace of the valley and the view of the iconic peak in the Baboquivari mountains, an hour or so west of Tucson. I asked Al if I could buy the painting, and he quoted a price too low. So we finally agreed upon a price that seemed fair for what I thought was watercolor by a talented amateur artist. Later, when I realized his modesty concealed his real fame as one of Tucson's distinguished local artists, I went back to see if I could give him more for his painting. He refused and seemed satisfied that I enjoyed his work. After several visits to his home, I eventually learned that he was a contemporary of the more famous Ted DeGrazia with a history of doing art for organizations and charities in the Tucson area. I also learned from an on-line 2004 article by Salomón R. Baldenegro ("Al Romo is a work of art (and paints them, too)", that Al was considered: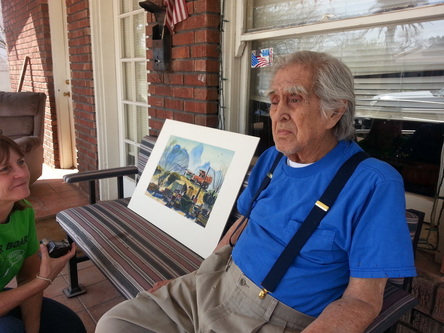 …a great local Mexican-American artist…best known for his renderings of small Southwestern and Mexican villages and the downtown Tucson barrios that were destroyed during the urban renewal of the 1960s, as well as for his desert landscapes. His work has been described as "lighthearted and nostalgic, yet ornamented with honest realism."

If you've been to San Xavier Mission, you've experienced his skills. He helped in the restoration. His mural commissions include St. Mary's Hospital, Casa Molina North restaurant and the offices of Surgical Associates. His work also graces the private collections of many prominent Tucsonans and of former first lady Pat Nixon. Many charitable groups have raised funds by auctioning paintings donated by Romo.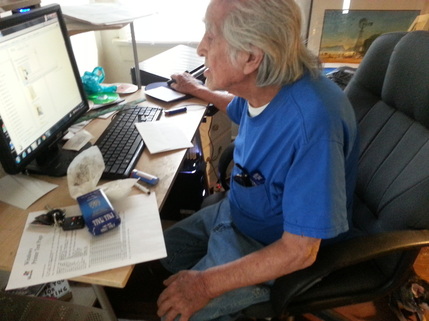 I enjoyed visiting Al to see his modest studio in the front bedroom of his house. The room was filled with paint and sketches in progress. Although he was 94 years old, he became energized showing me his work and how to manipulate his Apple computer. His house was full of cigarette smoke and the detritus of a life in decline, but with his beloved Chihuahua at his side, he was cheerful and seemingly settled with the memories of a long life. He taught me the value of drawing unpretentious local scenes that became majestic with simple watercolor washes. His art seemed fresh and easily rendered. Al had that rare talent of knowing just when to stop before a painting became over-worked. I wish I could have spent more time with him, but the painting that he allowed me to purchase a year ago, still teaches me.

Thanks Al - Apolonio Hernandez Romo.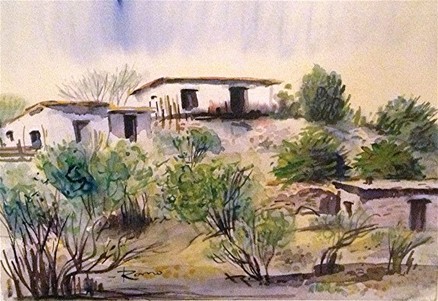 Post Blog - February 2015:

Here is an image from a recent posting from Mary Hess. Thank you Mary for sharing this delightful watercolor with us!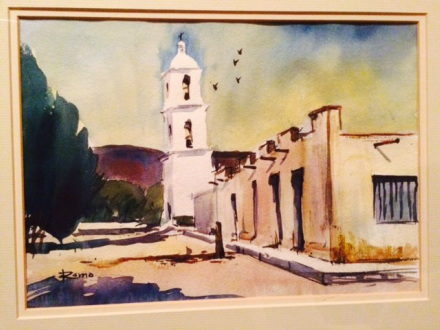 Post Blog - August 2015:

Nancy Alexander Koff has also contributed another Al Romo painting. This one is titled on the back: "San Ignacio" Kino Mission in Sonora near Magdalena, Mexico - Romo '73. Thank you Nancy for sharing another Al Romo treasure with us!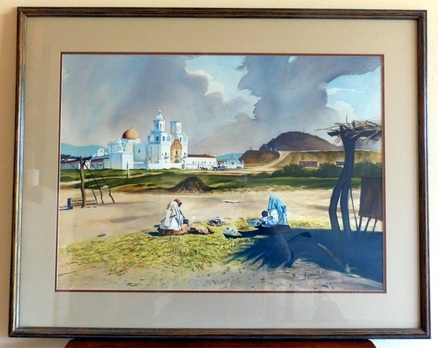 Post Blog - May 2016:

Here is another Al Romo's treasures found in a Tubac, Arizona estate sale by Hilda Dorgan. The subject should be easily recognizable to all as the San Xavier Mission historic Spanish Catholic mission located about 10 miles south of downtown Tucson, Arizona, on the Tohono O'odham San Xavier Indian Reservation. Thank you Hilda for sharing this with us!