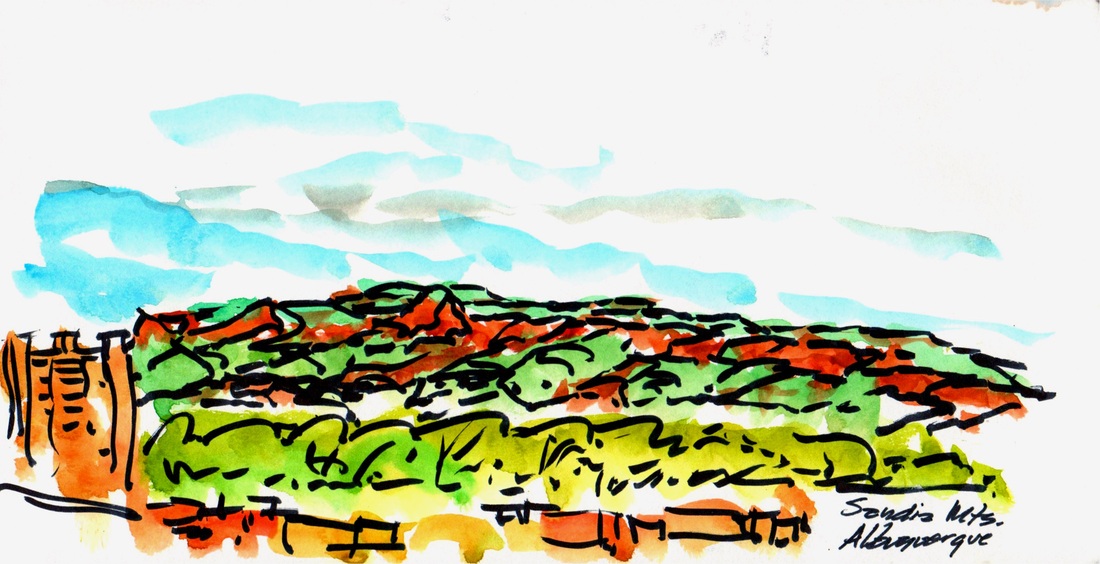 Oscar Wilde postulated that "Life imitates Art far more often than Art imitates Life" ("The Decay of Lying", Intentions 1891). I'll postulate that Mr. Wilde would have plenty to say about the relationship of art and life after a visit to Northern New Mexico. We recently returned to Albuquerque and Santa Fe after a 20 year absence, and during our long drive from Southern Arizona, we had time to reflect on art, life, and this remarkable landscape.

After crossing the Arizona / New Mexico border, we entered the open expanse of the Rio Grande valley. Life along this corridor has not changed much since we left, and it still looks haggard and difficult with endlessly grand vistas worn down by constant dry winds and infrequent rain. Yet the Rio Grande still manages to work its way down from snow melt in Colorado in spite of everyone's efforts to tap its waters. Unlike other landscapes with more frequent rain and lush greenery on river valley slopes, this landscape is a raw and colorful blend of bare geology, vast skies, and scrubby plants. When we finally arrived in Albuquerque we could readily see the typical sprawling growth into the sceneries that we had hoped would remain pristine. However unlike other desert cities it still has a live river weaving through its urban core.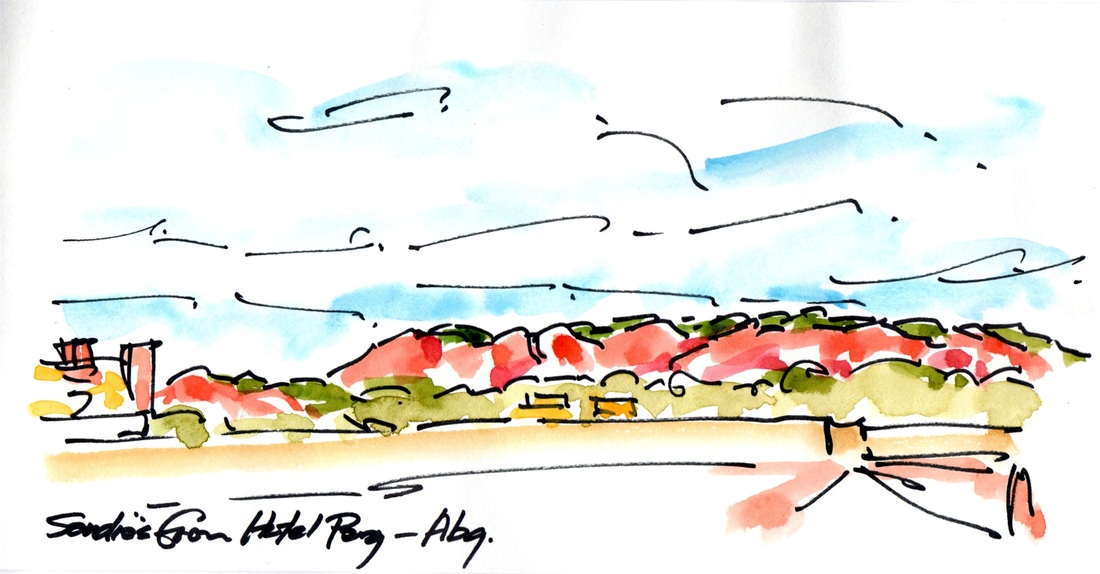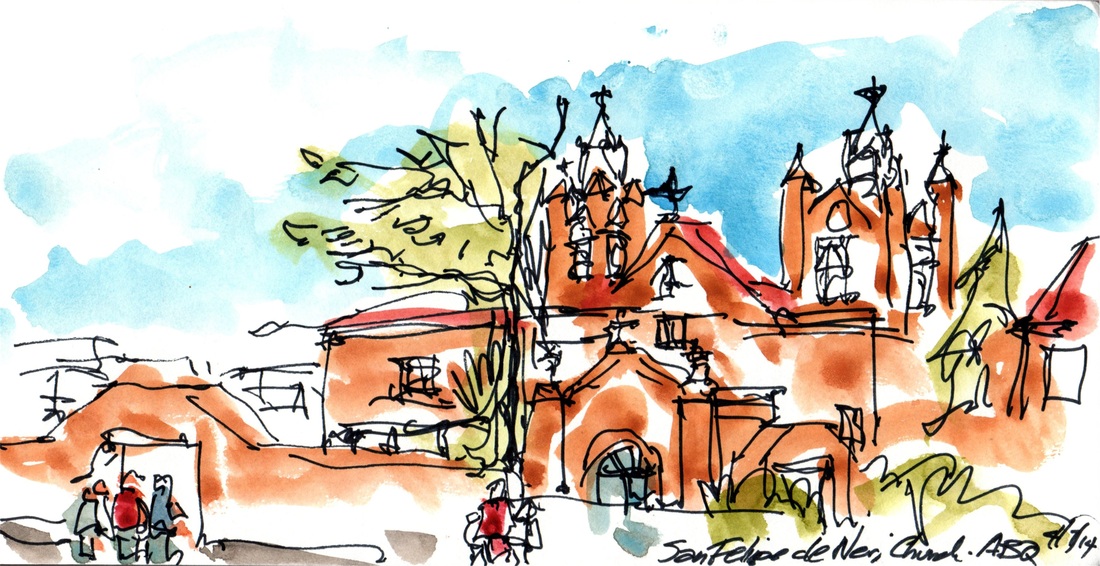 In spite of the growth at Albuquerque's edges, the city has continued to put life back into its once neglected downtown, Old Town, and its historic districts. We experienced a corner of this revitalized energy during our stay at the restored Hotel Parq on Central Avenue (formerly Route 66) that was once the hospital for the employees of the Atchison, Topeka & Santa Fe Railway Company. The rooftop bar (the "Apothecary" with a suitable hospital aesthetic) had grand views of the Sandia Mountains to the east that reflect the watermelon colored sunsets, the endless vista of the west plateau, and the still green path of the Rio Grande. We used to live near the river many years ago so our first priority was to return to its banks and its many irrigation acequias (ditches) for a restorative sketching reunion. In spite of all the urban and agricultural pressures on the Rio Grande throughout its progression, the river still manages to flow in the heart of Albuquerque and echo with the call of birds along the river's path.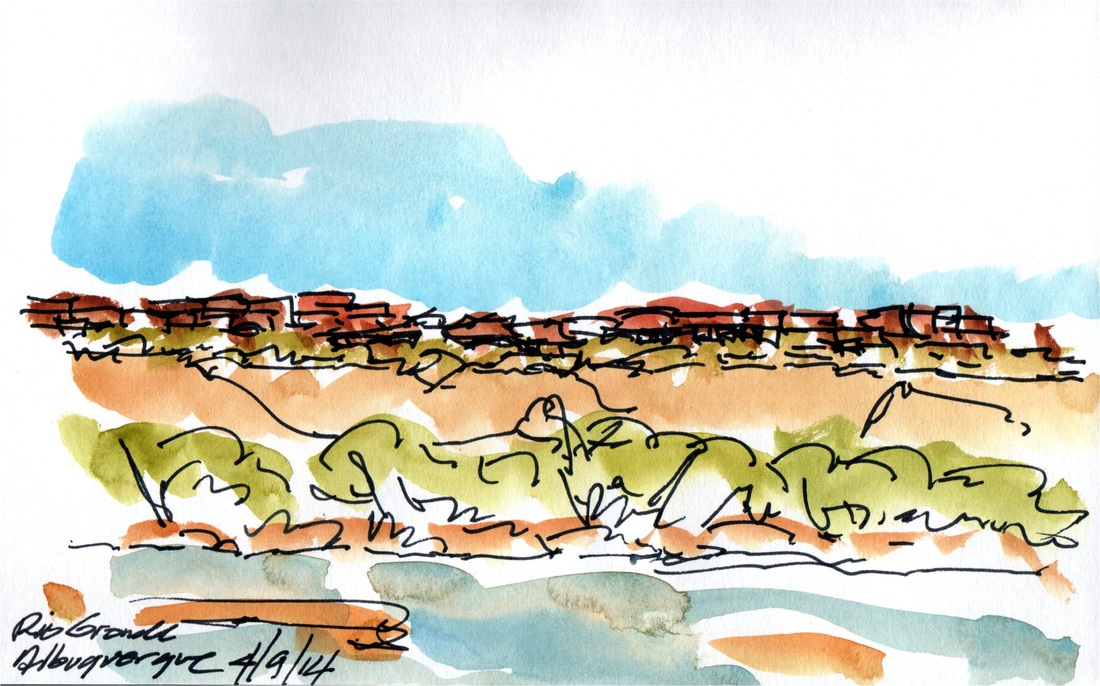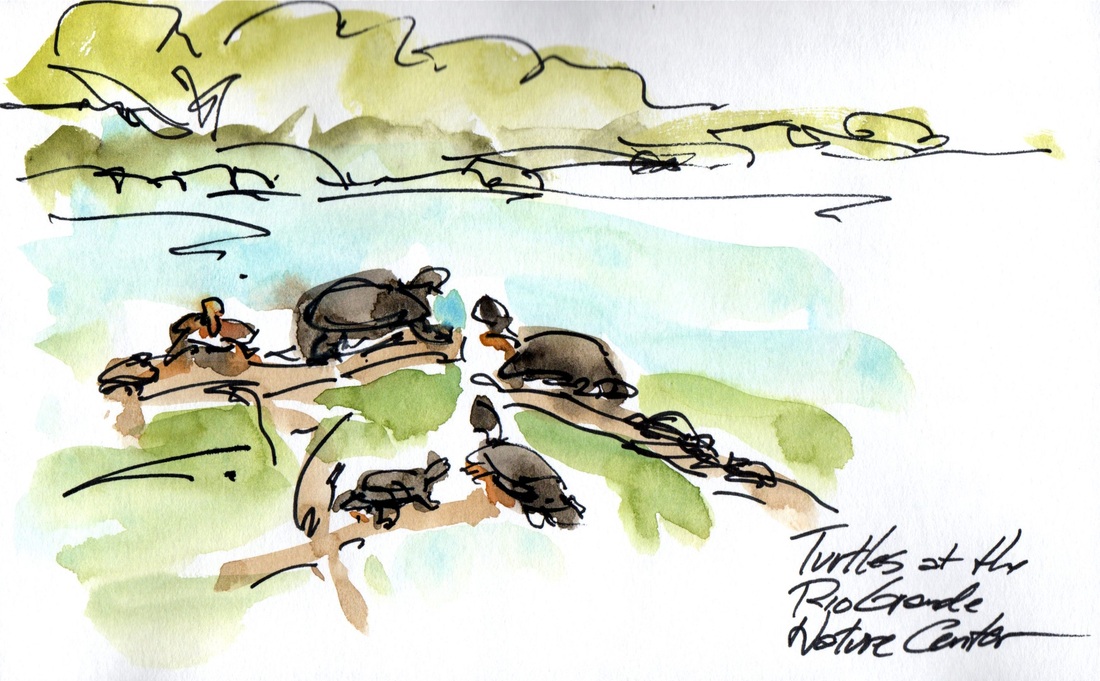 Our second priority was to reconnect with the remarkable cuisine of New Mexico that is as distinct as its landscapes. We enjoyed many new variations of New Mexican cuisine including a lunch time reunion with our favorite local fast-food chain, "Stufy's" which still serves a perfect blend of carne adovada in a stuffed sopapilla. The busy but friendly waitress admonished us for being absent for so long and suggested we not wait another 20 years before returning. We found an endless choice of new restaurants and local foods including boutique donut shops such as "Rebel Donuts" in Albuquerque and the equally extraordinary "Whoo's Donuts" in Santa Fe.


After a couple days in Albuquerque, we ventured north and enjoyed the landscape changes as we travelled from the stark desert of the lower Rio Grande valley and entered a landscape with hardy green dabs of piñon and juniper amongst colorful geological backdrops. Outside of Santa Fe in the Pueblo de Cochiti, we visited the Tent Rocks National Monument with its towering spires of pumice, ash, and tuff topped with hard rock cones. We hiked the slot canyon and did a few sketches of the rock formations before setting off to Santa Fe.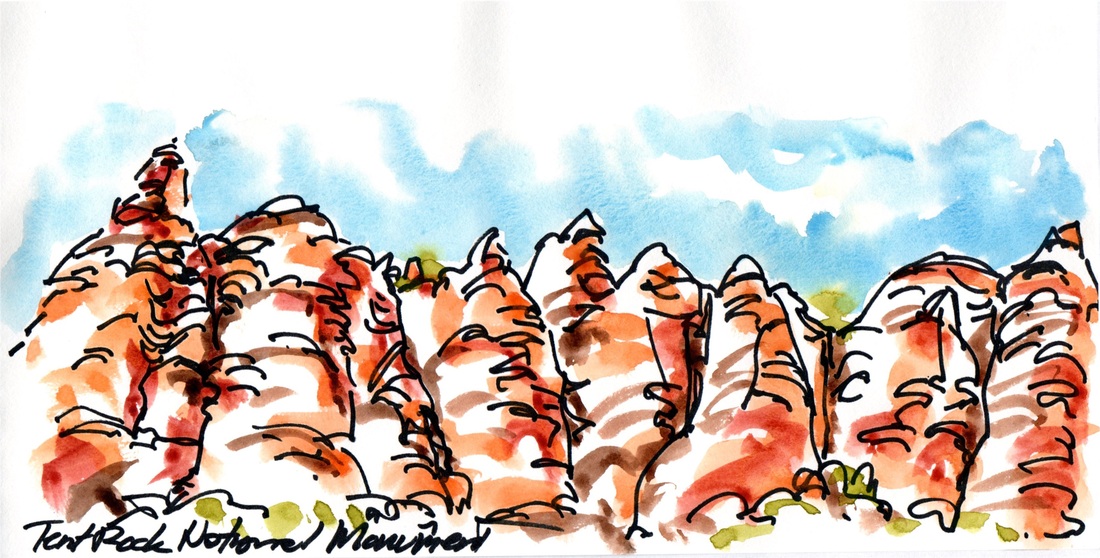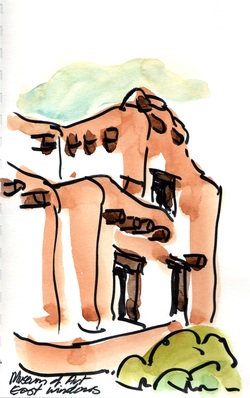 Santa Fe is touted as the "City Different". Unfortunately, it has also suffered from too much admiration for its differences with the pervasive growth of unoccupied suburban vacation houses in the city's hillsides. Still, the tiny city has managed to hold on to a walkable urban core with tight streets, vibrant shops, galleries, museums, and of course an international selection of restaurants. Again, people may first think of Santa Fe as the place for art, but it is equally the place for a unique cuisine blending local ingredients and international styles. During our morning walk down the infamous Canyon Road with all of its expensive art galleries and numerous "plunk" art bronzes, and it is still amazing how this tiny corner of New Mexico has attracted so many artists and an equal number of people interested in art. Everybody seems to be involved in art - even our bartender at the Inn on Alameda was a talented abstract painter from New York City. The Museum of Art is a veritable theme park of pueblo style architecture containing the many interpretations of Northern New Mexico's landscapes. Each successive gallery in the city owes a debt to the museum and the city's founders who promoted a building style and an idea of a colony for artists.

Needing an escape from all these artistic interpretations, we took off for a hike to see if we could actually get into the landscape that drew so many people to the area. Although not easy to find and often obscured by too many empty homes, we managed to find a trail that provided a refreshing reconnection to the pine forest. Further upstream, we rediscovered the Santa Fe River in the Nature Conservancy's Canyon Preserve where nature is still attempting to hold off the pressures of growth from all the people wanting to live and experience Santa Fe's artist colony.

One artist who answered the call to this region was Georgia O'Keefe who toured, painted, and eventually lived among some of the most remarkable landscapes of the region.
An hour drive north and far from the crowds in Santa Fe, we experienced a very special blend of her life and art.
As we drove past ill-fated communities and misplaced casinos we entered a region of classic Northern New Mexico vistas where human developments have faded and the landscape is still distinctive.
Under a spectacular blue sky with mountainous clouds, we joined the Georgia O'Keefe "Landscape Tour" at Ghost Ranch where the docents of the "Education & Retreat Center" lead a special tour of Georgia O'Keefe's art as viewed in the places where she actually painted.
Here in the country that is often referred to as "O'Keefe Country", there is no other gallery experience that shows the connection between art, life and landscape than here.
http://ghostranch.org/georgia-okeeffe/okeeffe-tours/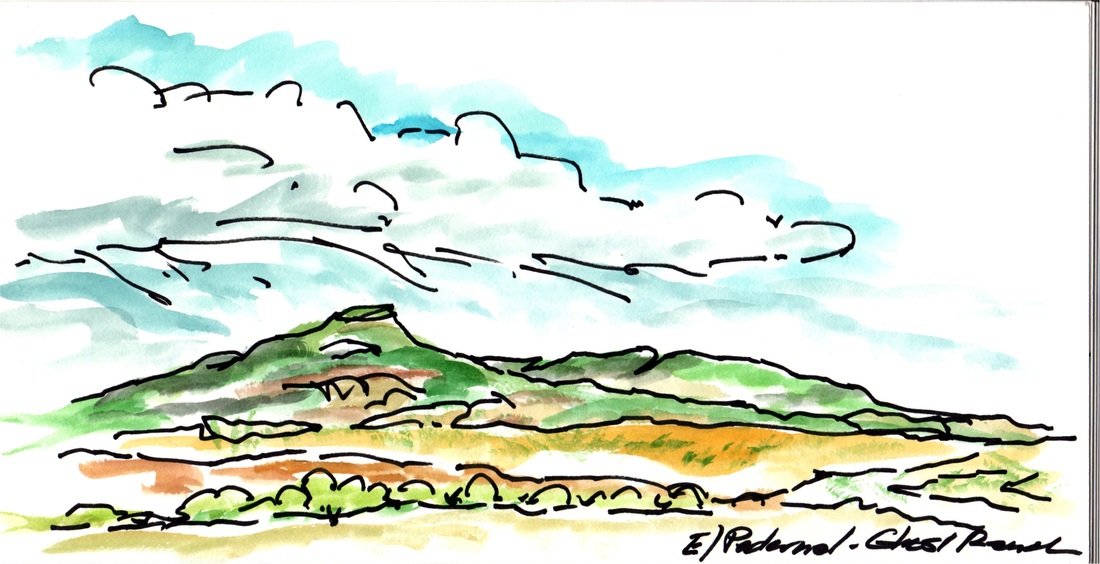 Weeks later as I reflect on this brief tour and the few sketches of our trip, it seems remarkable that an area that is so stark and seemingly unsustainable has managed to support so many artists and visitors. Like others reflecting on this area, Northern New Mexico keeps reminding us that we don't often have an opportunity to experience such simple and transparent landscapes or to visit a place with such a profound sense of connection to the land. Northern New Mexico is still unique and still a place where all the experiences come together in a seemingly coordinated theme of life and art imitating each other.