This month marks the 4th anniversary of the tragic shooting in Tucson at Congresswoman Gabrielle Giffords' "Congress on your Corner" event at a local Safeway store. Six people died that morning and 13 were wounded, including the Congresswoman. The wounded were taken to the hospital where I work, University Medical Center, now known as the University of Arizona Medical Center. Almost immediately after the first patients arrived, there were temporary mementoes deposited at the front lawn of the hospital, and subsequently at the Safeway store and the Congresswoman's office. My role in all this was as a hospital staff member who helped an administrative staff who were overwhelmed with the clinical, family, and media demands placed upon them and who needed someone to manage the growing memorials. Now, after four years of dedication to this cause including membership with the January 8th Memorial Foundation Board as their president, enduring countless interviews, and offering endless presentations, I've decided to reflect on the meaning of memorials.

During all this time, it became apparent that spontaneous and yet temporary memorial gestures offer the community an opportunity to re-connect with those lost and to become part of a broader community spirit. Like other tragedies, Tucson's temporary memorials sought to reflect a community mandate to transform grief into something permanent and meaningful for the survivors and for the community who felt that their community deserved to have a lasting memorial. Over the past few years there were many memorials developed for individuals lost and wounded that day. However, the Tucson community still expected a central permanent memorial to celebrate the community's response to the tragedy, to remember those lost and wounded, and to recall the importance of local and individual access to our government's representatives and institutions. After many meetings and consultations with survivors, political leaders, and community representatives, our Tucson memorial planning has brought the focus to Tucson's government center to create an appropriate memorial at the historic Pima County Courthouse where it intersects with Tucson's central gathering space, El Presidio Park.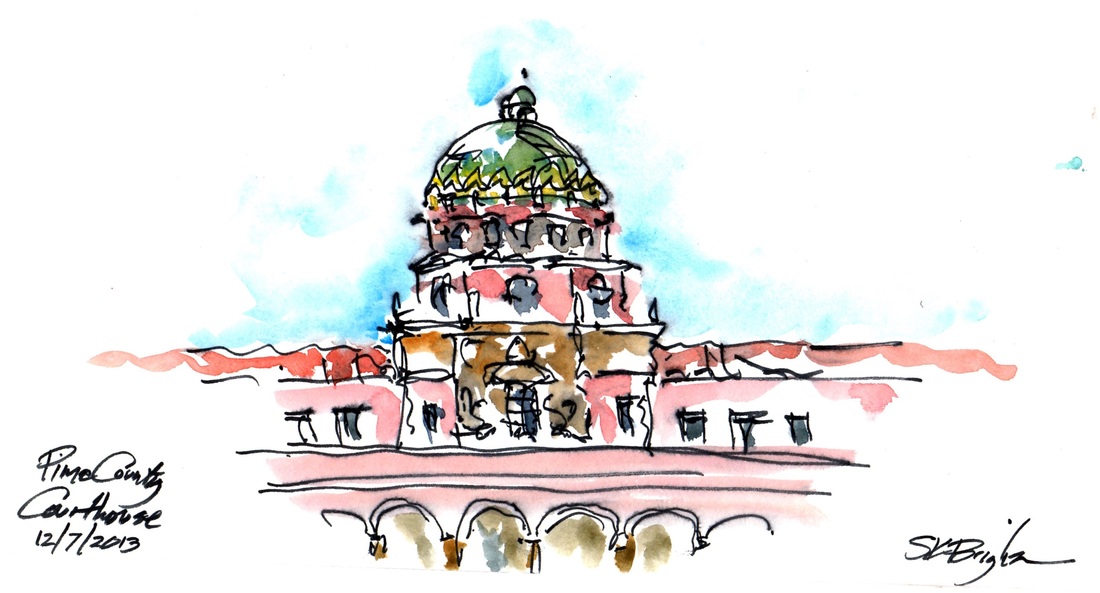 Watercolor sketch of the dome of the historic Pima County Courthouse used as thank you notes to donors. Stephen Brigham, December 2013
As our Board and many passionate volunteers continue to work on fund-raising, designer selection, and all the details required to create a suitable memorial, I am continually amazed at how much hard work, time, and money it takes to create memorials. I often wonder if those who deposited a bouquet of flowers, a personal card, a stuffed toy animal, or some personal memento during those early days of grief had any idea of the rippling cause and effect their simple gesture would create.

The world is filled with memorials created for many purposes, but during my visits and talks with memorial representatives, I have had a chance to reflect on a few common themes. Close to home is the Yarnell 19 Memorial in Prescott, Arizona that has created a variety of memorial projects to remember the 19 members of the Granite Mountain Hot Shots who lost their lives fighting a wildfire on Yarnell Hill. Flowers, firefighting gear, and other mementoes have been incorporated into a Tribute Fence, a preservation project in the Prescott Public Library, a marathon in Tucson, and an on-line memorial. However no one will ever forget the image of those 19 empty firefighters' boots and gear during the memorial service.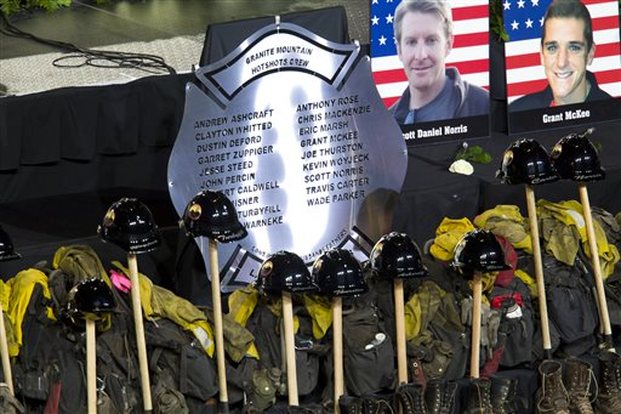 The names of the 19 fallen firefighters are displayed during a memorial service at Tim's Toyota Center in Prescott Valley, Ariz. on Tuesday, July 9, 2013. Prescott's Granite Mountain Hotshots were overrun by smoke and fire while battling a blaze on a ridge in Yarnell, about 80 miles northwest of Phoenix on June 30, 2013. (AP Photo/The Arizona Republic, Michael Chow, Pool)
The Oklahoma City Memorial honors the victims, survivors, rescuers, and all who were affected by the Oklahoma City bombing at a Federal office complex on April 19, 1995 with a museum, an annual marathon, and a remarkable "Outdoor Symbolic Memorial" that has become one of the city's top tourist visitation sites. Its lasting image is of the empty chairs to recall the lost lives that day.


The Franklin Delano Roosevelt Four Freedoms Park on Roosevelt Island in New York City is an example of a memorial that took more than 70 years to develop and for some time was nearly forgotten. It is now a four-acre memorial to Franklin D. Roosevelt that celebrates the Four Freedoms he articulated in his 1941 State of the Union address. It was designed by the architect Louis Kahn, who was carrying the finished designs with him when he died in 1974. His vision of creating an outdoor room and garden is a hauntingly silent place of personal and urban reflection with a clear view of the United Nations building and Manhattan across the East River. Its lasting image is a monumental yet quiet and reflective space between the frentic urban communities of Queens and Manhattan.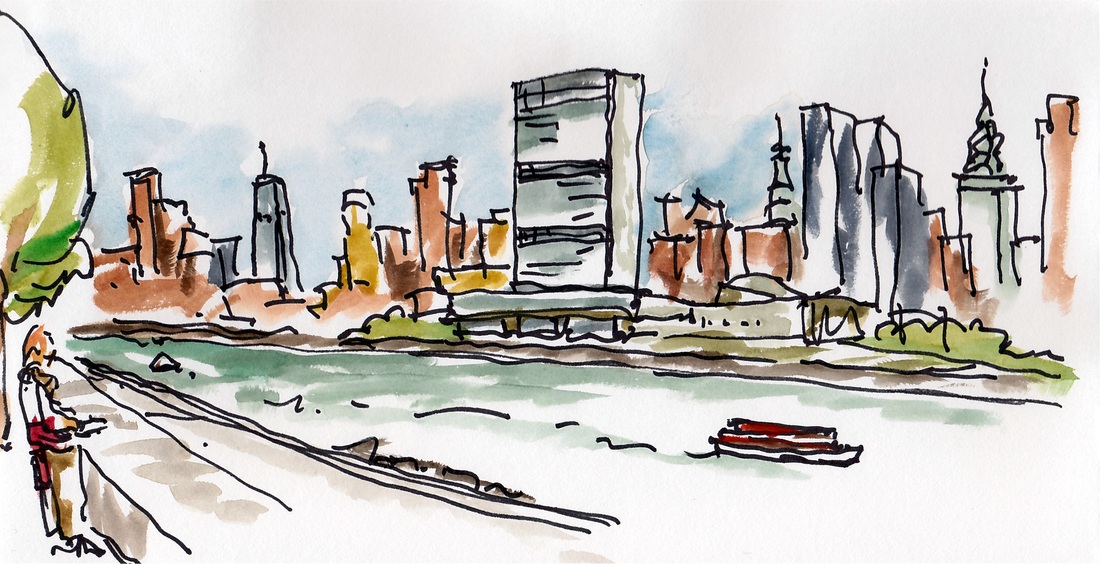 FDR Four Freedoms Park sketch of the United Nations building and Manhattan across the East River – Stephen Brigham October 2014
Of course no current reflection of memorials can be without reference to the 9/11 Memorial and its related memorials in Washington and in Shanksville, Pennsylvania where Flight 93 was brought down by heroic passengers. The 9/11 memorial in lower Manhattan is clearly without peer in terms of scale and impact with two massive and unforgettable square fountains that recall the missing twin towers and the adjacent 9/11 Memorial Museum with a seemingly endless line of visitors waiting patiently to experience the various memorials and tributes underground. While experiencing the countless fire trucks, building remnants, and ceremonial artifacts in the 9/11 Memorial Museum, I became numb with the unbelievable loss of life, families affected, and property literally demolished. However it was a simple audio recording that I heard in one of the many chambers of the museum that brought my emotions literally to a head. Amongst all the exhibits, this recording of a firefighter talking to a fellow firefighter on a radio during the many rescue efforts that morning was one of the more powerful remembrances that most of the firefighters that went into those buildings never returned.


Many wars have spawned countless memorials, but a memorial that continues to resonate world-wide after 95 years is the World War I annual remembrance reflected in the poem "In Flanders Field" by the Canadian physician Lieutenant Colonel John McCrae.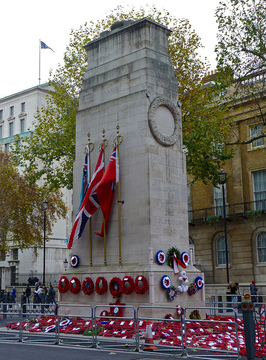 Sir Edwin Lutyen's Cenotaph to World War I at Whitehall, London - one of many monuments to commemorate the dead. Photo on Flickr by "picqero"
Although there are many lasting tributes to the war, including Sir Edwin Lutyen's Cenotaph at Whitehall, London, it is the reference in the poem to the red poppies which grew over the graves of fallen soldiers that has become the anthem for "Remembrance Day".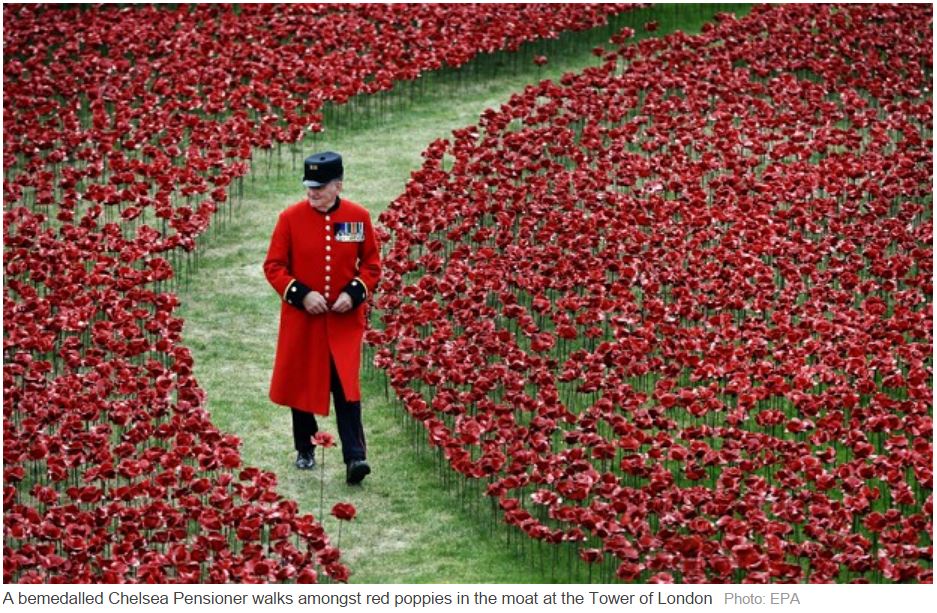 Regardless of the tragedy or the resulting memorial, it is often the simple gestures that endure. Of course different tributes affect each of us differently, but who would have thought that a discarded poetic reference to red poppies would become the lasting tribute to the 37 million dead and wounded of World War I. Of course the many other memorial sculptures, parks, museums, and other tributes are important. However wouldn't the ultimate memorial tribute be the end of wars, the cessation of meaningless shootings by deranged individuals, or the end to whatever tragedy that becomes memorialized? Memorials are important elements of any enduring community that experiences tragedy. While they take an extraordinary amount of work and resources to develop, they do not stop tragedies from occurring. But they do bring a focus to a community spirit and they remind us that there is some meaning to often senseless tragedies.

I do not expect our Tucson memorial to end senseless shootings, but I do see a community spirit that endures across a diverse spectrum of political beliefs. We have not yet found our red poppy, but I suspect that it will emerge as we engage designers to help us bring together a community vision.