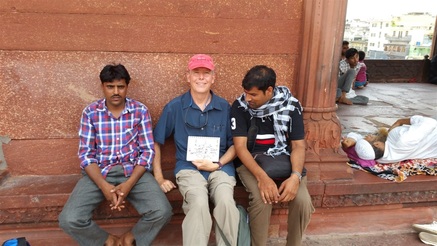 We recently went to India on a Yale Educational Tour led by Professor Paul Freedman who specializes in (among other things) the history of cuisine. While the focus was spice, the tour was wide-ranging introduction to India. It started in Chennai where the East India Company originated and ruled the beginnings of the British Empire, then to the hill station of Munnar in the southwestern Indian state of Kerala with all of its tea plantations, then down to Thekkady home of India's largest wildlife sanctuary (the Periyar National Park), then further down toward the Malabar Coast to a houseboat tour of the amazing Kerala backwaters. After two days of luxurious cruising in the waterways, we then completed our Southern India tour in the port city of Kochi where most of our tour group departed. Our family continued our tour with a flight north to India's golden triangle to experience the three destinations of this tourist route: India's capital city Delhi; Agra the home of the Taj Mahal and the historically significant Red Fort; and finally to Jaipur the capital and largest city of the Indian state of Rajasthan, known as the "Pink City" with its orderly networks of gridded streets laid out by the Bengali Brahmin architect Vidyadhar Bhattacharya in 1727. Between our tours of India's many palaces and monuments we were treated to amazing feasts of India's regional cuisines, the spices that lured so many colonial powers to India, evening lectures from Professor Freedman, and the expertise and hospitality of our guides Radhika Gopal in the south and Rashid Latif in the north.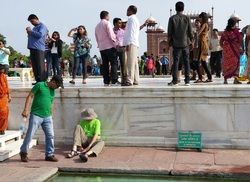 Trying to capture some of this adventure in quick sketches and watercolours proved especially challenging, but as stated in the title, I knew that my modest travel watercolour kit probably needed a few more colours than the dozen trays I normally use. So my first step to prepare for the trip was to upgrade my travel watercolour kit to a 24 colours kit - the "Sakura 24-Piece Koi Field Sketch Set". For this trip I also brought a couple Sakura waterbrushes (a large wedge brush and a medium brush) so that I wouldn't have to fuss with a water container, and three Stillman & Birn Beta Series sketchbooks (5-1/2" x 8" 270 gsm white Cold Press).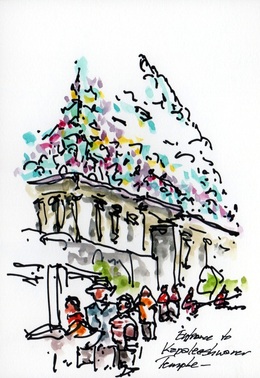 Many of the tour sites proved formidable challenges for sketching, such as the exuberant Kapaleeshwarar Temple of Shiva with its innumerable statues on a pyramid shaped tower of bulls, elephants, peacocks, goat, parrots, flowers, and gods and goddesses. The only way to quickly capture most of these scenes was with a quick ink sketch of the key elements and then an impressionist splash of colour to imply the overall spirit of the scene. While doing many of these sketches, I often stood out in the midst of tourists taking pictures with their smart phones, so it did not take long for a small audience to gather. Most of them took pictures of me and offered very kind words of encouragement while sketching. These moments became some of my very special memories of the trip.
For a country as vast and historically rich as India, it was certainly difficult to write or draw enough to reflect the magnificence of the country in only a few weeks. I also took many pictures on my phone, but these quick travel sketches best reflect my joy to being introduced to just a few of the treasures of India.
For more details of the trip, download:
India 2015 trip summary