My mother-in-law, Lucie, treated us to second row seats at the University's Stevie Eller Dance Theatre's opening season show of "Color Wheel". It's a great show and a fabulous performance hall to watch the very talented UA Dance Ensemble take on six highly entertaining pieces ranging from the "Antique Epigraphs" choreographed by Jerome Robbins to five others conceived and choreographed by members of the School of Dance Faculty.
http://dance.arizona.edu/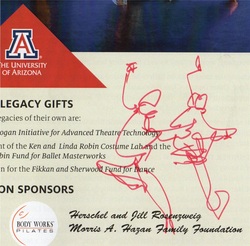 The dancers were all captivating and the music consistently engaging through all six pieces. The energy of these performances just begs for the listener to get involved. Some people tap their feet, some nod, and I found it's a great venue to draw blind. With the lights down low, my eyes riveted on the dancers, the program on my lap, and a red pen, I tried capturing a bit of the movement and energy of some of the performances. Since I couldn't see the result until the lights came back up, it takes all the worry about how a sketch looks. For a few minutes with my feet tapping and my pen skittering across the page, I felt like I was part of the performance. As a commentator cites on the School's web site: "Tell me and I'll forget. Show me and I may not remember. Involve me and I'll understand."