This is the third in a series of Blog posts related to the design and construction of the Banner University Medical Center new hospital in Tucson, Arizona.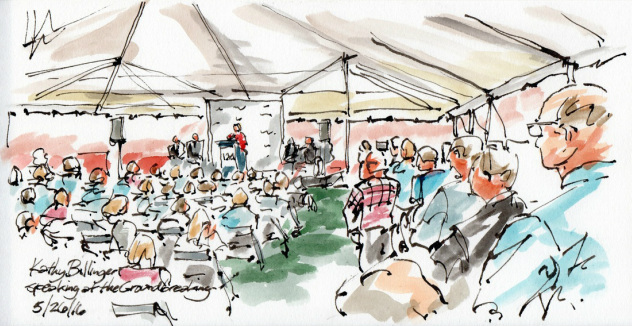 We've had several important milestones and events to celebrate during the past couple of months. We finally scheduled the formal groundbreaking even though we've been under construction and "breaking ground" for several months. While it seems logical to have a project groundbreaking at the start of construction, these events are scheduling nightmares for those trying to coordinate the busy calendars of speakers. For our event, we wanted to include the leadership from the City of Tucson, the University of Arizona, and Banner Health, so this took considerable coordination. We finally got everyone scheduled for May 26. Here is the University's press release for the morning event:
Hospital physicians, staff, neighbors, UA leaders and community leaders are invited to attend a groundbreaking ceremony for the $400 million, nine-story tower at Banner – University Medical Center slated to open in early 2019.
Guest speakers include:
Kathy Bollinger, Executive Vice President of Academic Delivery for Banner Health, Banner University Medicine

Tom Dickson, CEO, Banner-University Medical Center

Charles Cairns, MD, Dean, College of Medicine - Tucson and Professor, Emergency Medicine

Ann Weaver Hart, President, The University of Arizona

Major Jonathan Rothschild, City of Tucson

Dr. Akinlolu Ojo, AVP for Clinical Research and Health Initiatives, UAHS

The nine-story tower is the centerpiece of $1 billion in construction undertaken by Banner Health in support of the UA Colleges of Medicine and academic medical centers in Tucson and Phoenix.
Ironically, we put the morning construction activities on-hold while we conducted the ceremonies on the construction site. We also prepared a series of display posters that included project information and several historic images illustrating the history of the project site including the time that the University supported a R.O.T.C. cavalry training site and a successful polo team. Since many of the speakers referenced the unique history of the site, it seemed that this was interesting to many of the participants.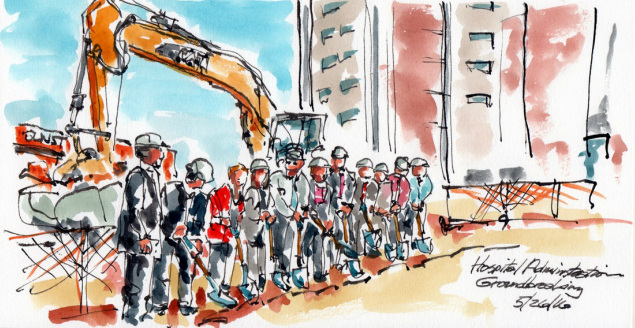 There were several groups who participated in the ceremony of digging into the prepared soil with silver shovels including this sketch of the Banner University Medicine Division leadership team.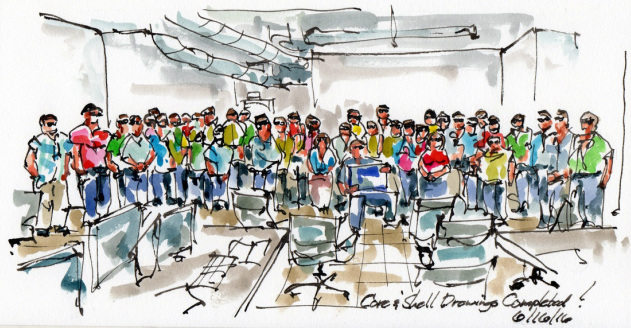 The other event we celebrated was the design team's completion of the "shell and core" set of drawings. This massive set of approximately 500 drawings included the building exterior "shell" and "core" interior elements that was submitted to the City of Tucson for review and permitting for the construction team to construct the envelope of the building. The Shepley Bulfinch and GLHN architectural team with AEI, their mechanical engineering team, and many others including input from the Sundt|DPR construction team and their trade partners did a remarkable job pulling together so many issues and challenges in such a short time. Having a BIG ROOM where we could all collaborate certainly contributed to the efficiency and success of the team. At our June 16th Thursday report-out, we took a moment to pose for a group picture sporting their "Foster Grants". The sunglasses became a trademark for this event after seeing a picture of architect Ned McKnight hiding his eyes after many long nights.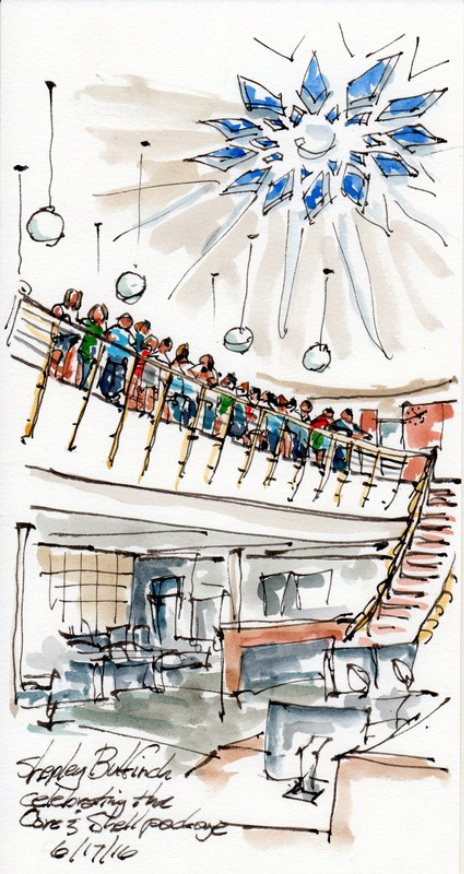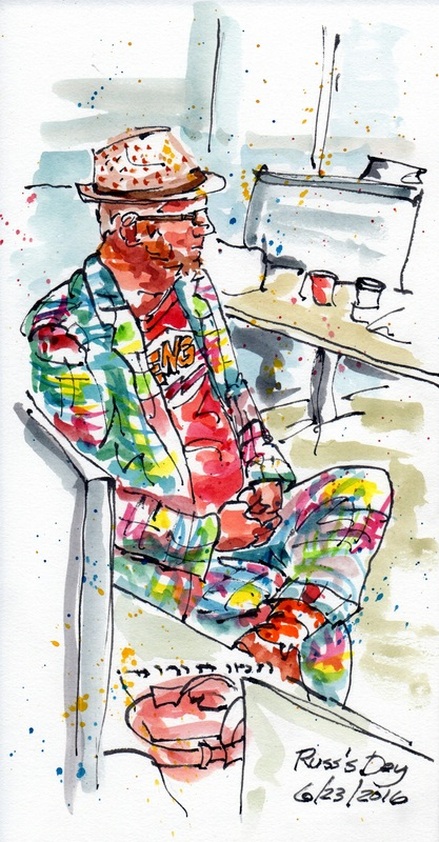 Another event last month was the first "Dress like Russ Day". For many months we have been admiring architect Russ Combs' ability to show up in the BIG ROOM with outfits that defied any clothing tradition. He was the master of combining plaids and stripes, blending Hawaiian florals with east coast simplicity, and introducing styles to each other that were never intended to be in the same room. His contradictory and conflicting approach to apparel inspired us to have a special day to see if anyone could come close to matching or at least capturing some element of Russ's inspired dress code. Of course we had many attempts, but Russ "out –Russed" us all with a vintage Ralph Lauren Madras patch suit, bright orange socks, a Bazinga t-shirt, and topped off with a fedora. We did give Russ an opportunity to select a runner-up and thanks to a bright vintage 1960s tie made by my wife, I was awarded the runner-up prize to Russ. However, I suspect that I may have been given special consideration as the project owner's representative.

Celebrations are important – especially during a four year long project!