May 24, 2017 I retired from Banner Health with my colleagues still working away in the BIG Room. The new hospital is still scheduled to open in April 2019. Although the exterior is not complete, this final post has to somehow bring a year of sketching and blog posting to a close with a sketch of how the new building will look when it opens. Fortunately the architects, Shepley Bulfinch, have a series of final design renderings which I referred to for this final sketch. Their renderings provide a much more accurate view of the final building image which you can view on their web site:
Shepley Bulfinch architects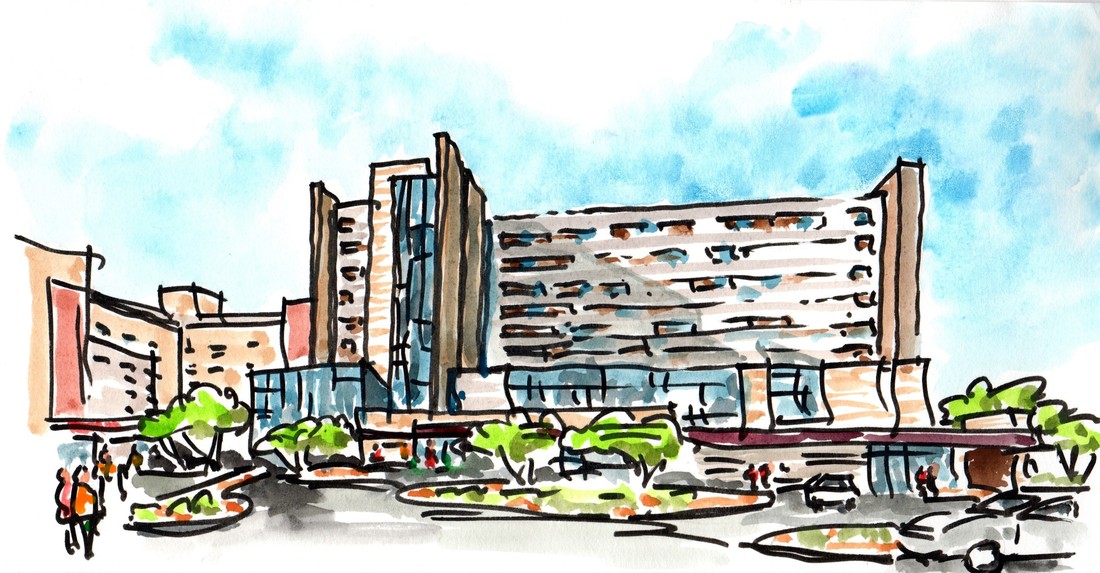 The new Banner University Medical Center Tucson campus hospital - April 2019 - from a rendering by Shepley Bulfinch architects
I owe a special thanks to the entire BIG Room team for their constant encouragement and support of the sketches. I look forward to walking through the new hospital front door in 2019 with all the members of the BIG Room. Thank you for your support of this sketchbook project, but most importantly thank you for your continuing great work together. The past year of working with you was one of the highlights of my 30 years serving the University of Arizona and the Medical Center.